In the ever-evolving world of online slots, "Mental" by Nolimit City stands out as a true enigma. Released on August 31, 2021, this high-variance slot has captured the attention of players with its intriguing title and promises of substantial rewards. In this deep dive, we'll unlock the secrets of "Mental" and explore its main features, gameplay mechanics, strategies for success, and deliver a final verdict on whether this slot is worth your time.
Main Features: The Heart of the Enigma
"Mental" Slot boasts an array of features that contribute to its mysterious allure:
High Variance: "Mental" is not for the faint of heart. With high volatility, it's a game that can lead to longer losing streaks but promises significant rewards when the tide turns in your favor.

Lucrative RTP: The game offers a respectable Return to Player (RTP) rate of 96.09%. This suggests that over the long run, players can expect to receive back 96.09% of their bets, making it an attractive option for those seeking both excitement and potential gains.

Astounding Maximum Win: The most captivating secret of "Mental" is its top possible win, which can reach an astonishing x66,666 your initial wager. This substantial reward potential is a major draw for risk-tolerant players.

Abundance of Bonus Features: To keep players engaged, "Mental" offers a plethora of bonus features, including Free spins, Wild symbols, Scatter symbols, Multipliers, and even a Buy bonus feature. These add layers of complexity to the gameplay and increase the chance of substantial wins.

Top-Notch Graphics: "Mental" boasts excellent graphics and animations, immersing players in its mysterious world. The visuals are sharp, crisp, and complement the enigmatic theme.

Cross-Platform Compatibility: Whether you prefer gaming on your desktop or mobile device, "Mental" caters to both platforms, allowing you to unlock its secrets wherever you are.

Revealed Hit Frequency: One of the most intriguing secrets that "Mental" reveals is its hit frequency of 34.19%. This provides insight into how often you can expect to land winning combinations.
Gameplay: Navigating the Maze
Understanding the gameplay mechanics of "Mental" is essential for those looking to decode its secrets: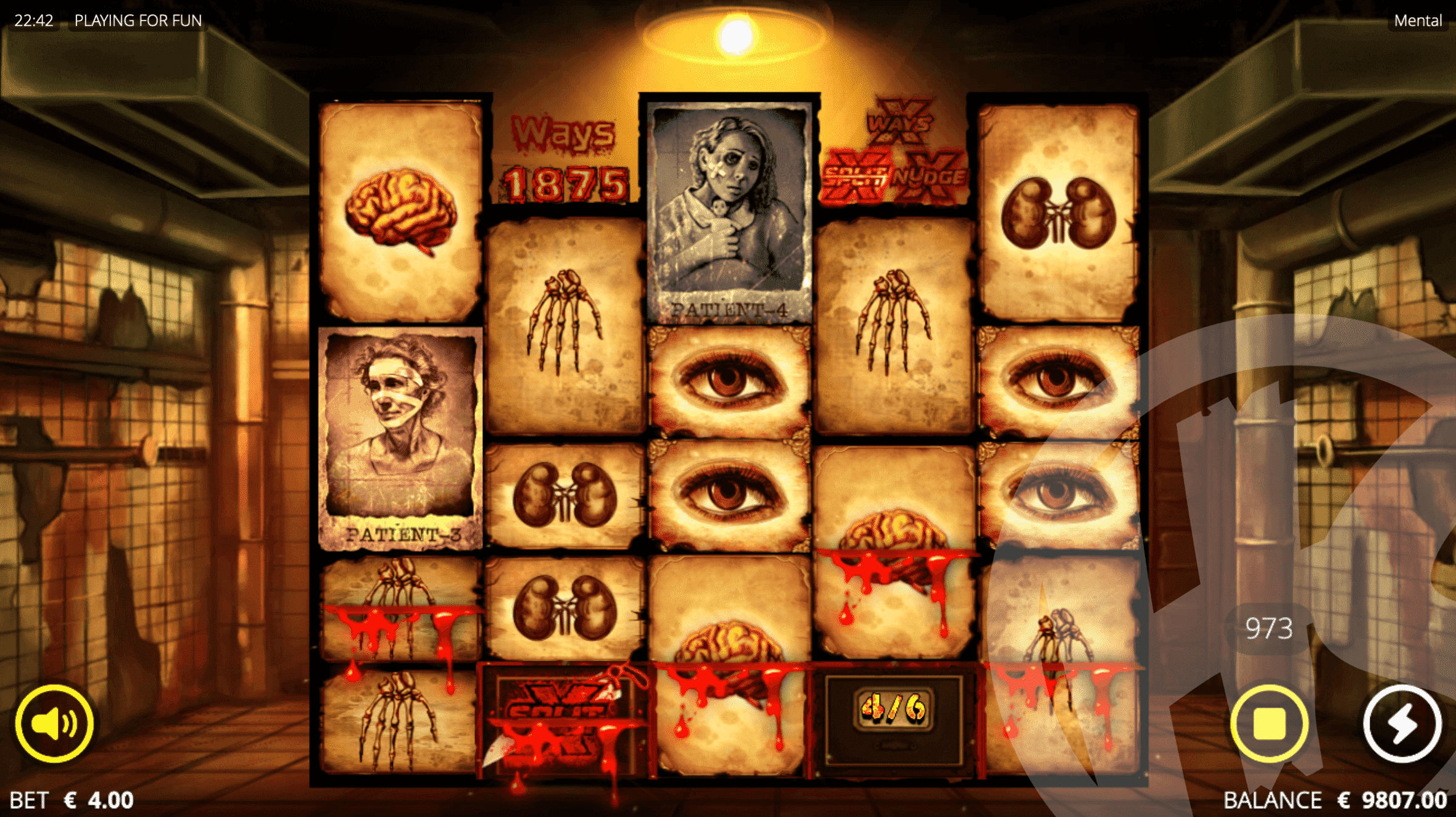 Paylines and Betting: The slot offers 108 fixed betways, meaning you cannot adjust the number of paylines. However, you can set your bet amount to suit your budget, making it accessible to various players.

Symbols: The game's symbols are cryptic and in line with its enigmatic theme. Expect to encounter an array of mysterious icons as you spin the reels.

Bonus Features: To unlock the secrets of "Mental," keep an eye out for the bonus features. Free spins, Wilds, Scatters, Multipliers, and the Buy bonus feature are your keys to unlocking potentially lucrative rewards.

High Volatility: As mentioned earlier, "Mental" features high volatility. While this means you might face more extended losing streaks, it also means that significant wins are a possibility, adding an element of excitement to every spin.
How to Win: Cracking the Code
Unraveling the secrets of "Mental" requires strategy and a bit of luck:
Bankroll Management: Given the game's high volatility, it's crucial to manage your bankroll wisely. Start with smaller bets to extend your playing time, and gradually increase your wager if you start landing winning combinations.

Utilize Bonus Features: Take full advantage of the bonus features, especially the Buy bonus feature if your budget allows. It can provide a shortcut to the most lucrative rewards.

Set Win and Loss Limits: Define clear win and loss limits before you start playing. If you reach your predetermined win or loss limit, consider taking a break or cashing out.

Play for Fun: Remember that slots are primarily a form of entertainment. While winning is enjoyable, play "Mental" for the thrill of decoding its mysteries rather than solely chasing profits.
Conclusion: The Final Piece of the Puzzle
In the world of online slots, "Mental" by Nolimit City is undoubtedly a complex puzzle that offers the promise of substantial rewards. With its high volatility, impressive maximum win, and a plethora of bonus features, it caters to thrill-seekers and those with a penchant for risk.
However, cracking the code of "Mental" requires patience, strategy, and responsible gaming. Bankroll management and utilizing the game's bonus features wisely are key to unlocking its secrets.
Ultimately, whether you'll find "Mental" enjoyable and rewarding depends on your appetite for risk and your willingness to embrace the enigma. It's a slot that may not be for everyone, but for those who dare to delve into its mysteries, the potential rewards are undoubtedly alluring. Just remember, in the world of slots, sometimes the greatest secret is to play for fun and enjoy the journey.
Looking to take your skills to the next level? Check out our BLOG section for expert tips, advice, and resources on how to improve your online casino game. From mastering strategies for table games to becoming a pro at live dealer experiences, our "Blog" section has everything you need to become a top player.
Author: James Hatbill